Buochs LSZC
is the
base of Pilatus Aircraft
factory in Europe.
Buochs is served by OAV Executive's jets from London City EGLC and Athens LGAV hubs.
Buochs Airport (ICAO code LSZC Mil: LSMU) is a regional airport in the town of Buochs in the Canton of Nidwalden in the center of Switzerland.
It has a concrete runway with a length of 2.000 meters at an elevation of 1457 ft., several taxiways and hangars.
The airport is surrounded by terrain peaks and following the RNAV approach for descent there is a
demanding VISUAL circling procedure
that follows for runway 24/06.
Most often used runway is 24.
The airfield is formally the responsibility of the Swiss Air Force, but is operated by the Civil Airport Buochs AG. Since 1 January 2004, the military airfield Buochs is a "sleeping base" of the Air Force. In case of an extraordinary situation the entire military infrastructure of the airfield can be made operational again. However, there are considerations that the military withdraws completely from the airfield.
Next to the aircraft cavern near the airport is the factory premises of the Pilatus Aircraft who use the airfield including for test flights.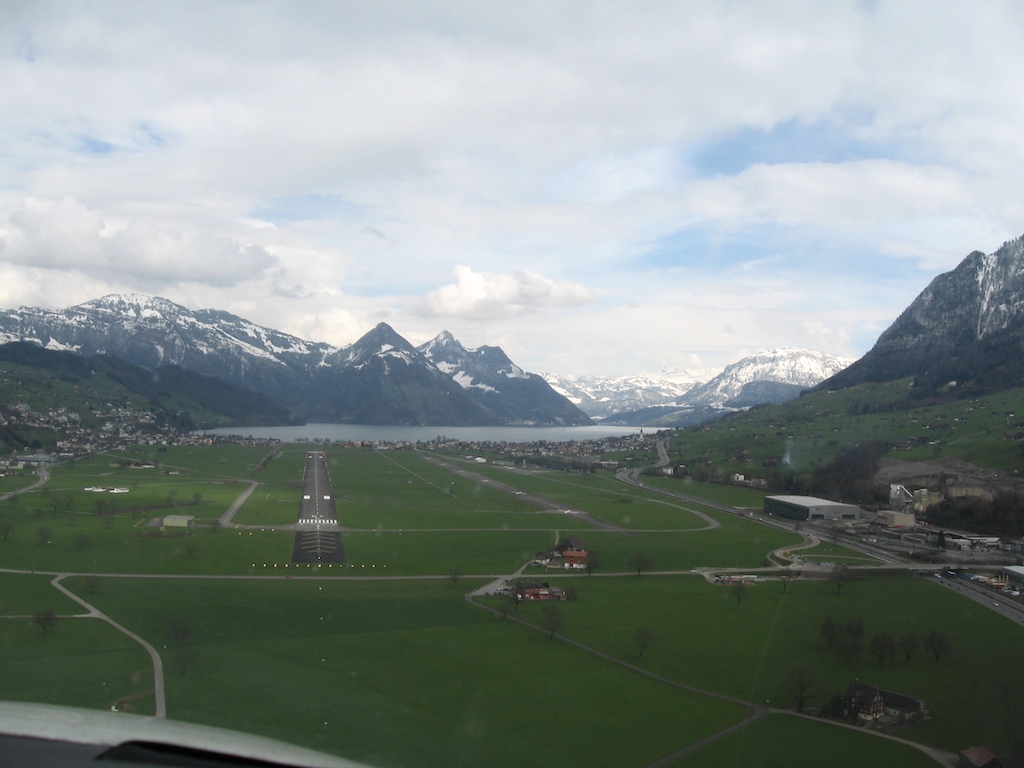 Briefing:
Both runways 24 & 06 are approached visually following a steep 4.0 degrees descent RNAV approach.
The instrument approach descent has minima of 2.280 ft. (805 ft. AGL) and 3.800m visibility
Chart :
LS_AD_2_LSZC_2_24_10_1_EN.pdf from airport website
Monitor TAF and METAR of Buochs LSZC weather since adjacent lake surrounded by mountains is prone to producing FOG in the area !
Once you are visual with airport environment you continue with the VISUAL approach part
Chart:
LS_AD_2_LSZC_2_24_10_3_EN.pdf from airport website
A public road intersects the runway at the middle and crossing is controlled by traffic lights !
Flight Plan Alternate: LSME Emmen (8nm North with ILS)
Our Corporate jets park at the Pilatus Facilities.
STANDARD ARRIVALS initiate via WIL VOR (west) or AGERI fix (southest) and take you to Initial Approach Fix (IAF) RONIX
DEPARTURES are all via WIL VOR
Live airport webcam:
http://www.airportbuochs.ch/_livecam_ost.php
Stunning VFR approach for runway 06 by a Pilatus PC12
https://www.youtube.com/watch?v=j20FjfA0QJM
Charts:
You can find the charts at the airport's website.
Download the PDF's and you have all you need.
http://www.airportbuochs.ch/
P3D Scenery:
P3Dv3 scenery by Aerosoft
.
There is no P3Dv4 scenery version yet.
XPlane
(relevant post)
https://gateway.x-plane.com/scenery/page/LSZC
FSΧ Scenery:
https://www.freewarescenery.com/fsx/switzerland.html
Real Airport:
http://www.airportbuochs.ch/
https://en.wikipedia.org/wiki/Buochs_Airport